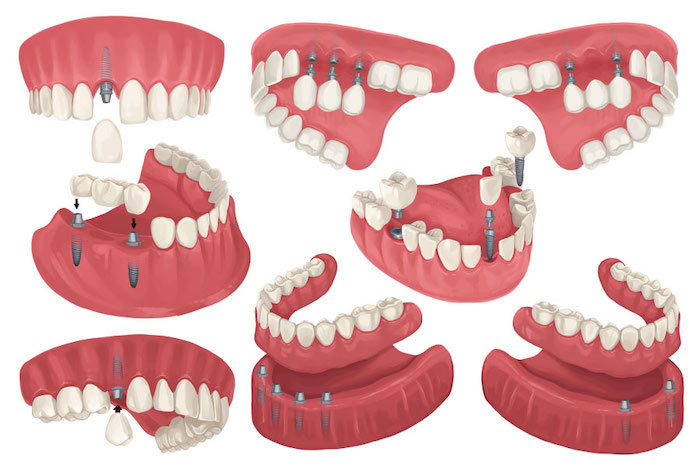 What to Know About Dental Implants
March 31, 2022 11:05 pm
A dental implant is a permanent replacement for a missing tooth. By surgically placing a post in your jawbone and adding an artificial tooth, we can restore your smile!
Dental implants have three parts: the post, the abutment, and the tooth replacement. The post is made from titanium, which is a biocompatible material. The abutment connects the post to the tooth replacement. The tooth replacement is either a single dental crown, bridge, or denture.
Who Can Get Dental Implants?
Patients with good oral health, good dental hygiene, and good jawbone density are usually eligible for dental implants. If you're a smoker or have a weakened immune system, you may not be a good candidate. Our team evaluates each patient's medical history and lifestyle to determine eligibility. If you don't have good jawbone density, a bone graft may be performed to improve the likelihood of implant success.
What's the Process Like?
We'll first make an incision in your gums. Next, we'll drill a small hole in your jawbone and place the titanium post. As you heal, the implant fuses with your jawbone. Recovery time varies but it can take a few months. After you've recovered from the surgery, we can top your implant with the right restoration for your smile.
Should I Get a Dental Implant?
One big benefit of dental implants is how natural they look and feel. It's the only tooth replacement that replaces your missing tooth root. This preserves your jawbone density and supports your cheeks. With daily brushing and flossing, a balanced diet, and routine trips to the dentist, dental implants can last for the rest of your life!
Harrisonburg Dental Implants
If you're missing a tooth (or multiple teeth), dental implants can restore your smile and maintain your jawbone! The treatment is a bit more complex and pricier than other tooth replacements, but there are many advantages to implants. If you have any questions or want to schedule a consultation with Dr. Rigby, please contact our office today.
Dental implants images from Authority Dental under CC 2.0